A professional shop signage service with traditional values & guarantees.
If you want your shop front to reflect the quality of your business, nothing can say it more than a hand crafted sign. We use techniques that have been handed down from generation to generation – taking years to master – to create signs and window graphics which are bespoke works of art in their own right. From traditional gold leaf signs for conservation projects, to contemporary spray paint and airbrush finishes, we've got the skills and techniques to create the right sign and image for your business.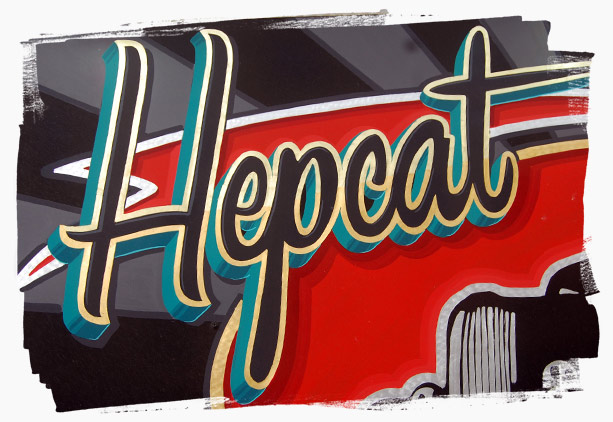 Hand painted signs were the norm until the introduction of cheaper vinyl materials in the last 30 years. The art of traditional signwriting sadly lost a generation of apprenticeships and the skill set became a rare art form. Recently there's been a massive resurgence in demand for hand painted lettering. Local authorities, designers and architects are now also recognising the benefits of using traditional hand crafted signs in regeneration projects and conservation areas, bringing a bit of much needed character back to our towns and villages.
We offer a full shop signage service – from logo design to finished fitted sign – based on traditional values and guarantees. Working on shop fronts up and down the country, we combine modern designs and custom made fonts with traditional techniques, such as reverse gilding, back painting and acid etching. We use only the best materials for all our signs and window graphics, including 24, 16 and 12 carat gold leaf transfer, durable enamel paints and the highest grade lacquers and finishes on the market, to create truly stunning results.
We genuinely care about doing a good job for you, as we appreciate what's at stake in setting up your own business. We realise it can be a stressful time, for many people a career change. We're often the last suppliers on site before a business opens, by which point many new owners are feeling the strain. We ease the pressure by taking care of every aspect in this vital last stage. We'll come up with a design which totally reflects what your business is all about; help you through the planning process (we're totally clued upon on what's needed to meet stringent planning permission) and create you a top quality sign – either on durable aluminium powder-coated panels which we'll do in the studio and fit on your site, or paint directly onto your existing shop front, depending on the condition of the fascia board. Either way, your business will benefit from a quality handcrafted investment for years to come.
Gold leaf is created by hammering gold into thin sheets. The application or 'layering' of gold leaf to a surface is known as gilding – a traditional, decorative technique we often use in our shop signage. Here, we size the surface with an oil based glue, before applying the gold. We can do this on panels in our studio or onsite at your premises using scaffolding. Gold leaf signage is highly resilient to the elements and environment, and looks superb for generations.
We also use 'reverse gilding' which is the most intricate of all forms of gilding. Here we skilfully apply the artwork to the back of a piece of glass or shop window to provide a mirror finish. We use the same technique today as that used hundreds of years ago, to create truly striking effects.
Download Gold Leaf factsheet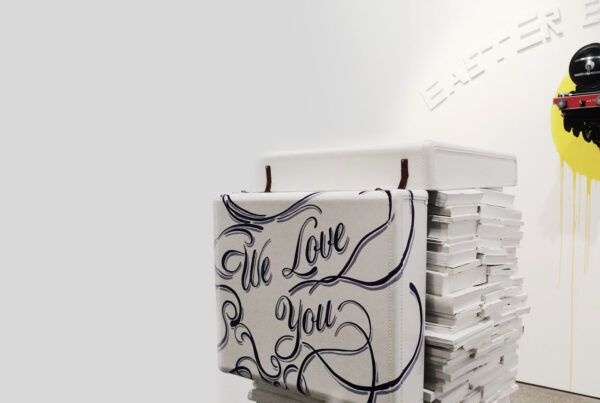 Signwriting contribution for Jim Lambie's TRAIN IN VEIN New York Exhibition "October 22 —…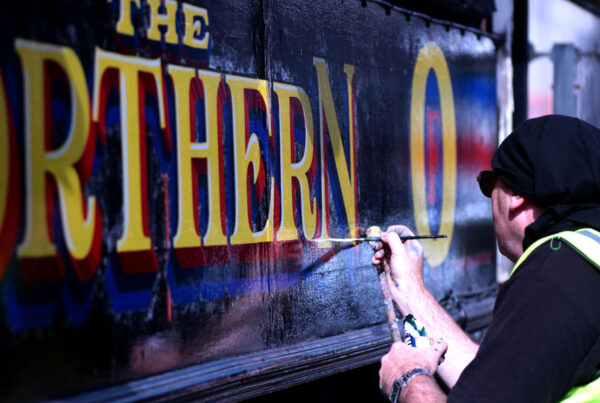 To kick off September we headed back down to Manchester. We were working on a…